What Is the Language Strategy in Your Organization?
editor
What is the language strategy in your organization? Here we share some key tips for its effective implementation in your organization.
Language is something that permeates all human activities and is present in every one of an organization's interactions. Multilingualism is a strength when participating in global markets as it tears down cultural barriers, but it also allows a better knowledge and understanding with organizations and potential clients from around the world.
Harvard Business Review points out in a report that even in high-performance workforces, the linguistic diversity within them can cause misunderstandings, loss of sales, and a decrease in competitiveness. In this sense, it's essential for businesses and organizations to define a "lingua franca" for all their communication needs. This refers to a language that acts as a common denominator for everyone. However, it constantly recognizes the importance of finding a balance between this common language and the idiosyncrasies specific to each of the members set by their native languages and cultural backgrounds.
This makes it necessary for organizations to plan and develop a language strategy. Establishing criteria regarding language in recruiting processes and team training is key to a better team performance. The variables that correspond to the specific characteristics of each organization that are directly associated with their location must be taken into account along with the regions that it includes or interacts with. However, it's very important for there to be a coherent system behind this strategy with clear, recognizable goals and objectives that are organized into levels of priorities as necessary.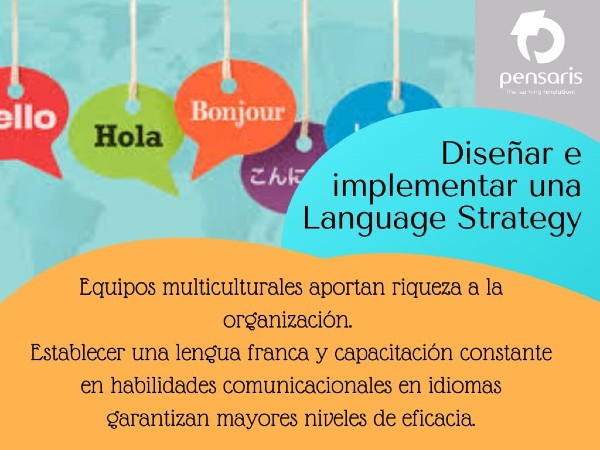 What variables should be taken into account to develop a language strategy?

If the organization works in several countries with different native languages or wishes to do so, in the selection process, the possible limitations of the candidates in speaking the lingua franca, which is probably English, must be taken into consideration. This shouldn't be removed from the required skill sets of the positions to fill. In fact, these skills will be a potential factor to promote and a strong motivation for those who join the workforce.
Therefore, it's essential to incorporate as an intrinsic part of the organization's functions constant training in communicational skills centered on language learning. Aside from being a tool for evaluating the performance and evolution of your workforce, it is also a great catalyst for other skills.
It's also important to consider multiculturalism and diversity as a contribution that enriches the organizational culture itself and remember this when designing the strategy. Likewise, it is key to adequately choosing whom to incorporate in the work forces for set roles according to their cultural characteristics.
Once the needs and goals of the organization are identified, the following suggestions are recommended to define the best language strategy:
1 – Evaluate to determine the starting point
It's important to clearly establish what your team members' levels are in the lingua franca. For example, it's believed that a person can speak English fluently in any context if he can use at least 3500 words.
2 – Choose training programs

Choose the training program that fits both the needs and objectives of the organization and the characteristics of your workforce. This is why the previous step of awareness and evaluation is essential.
3 – Consider the training an investment

Training should be seen as an investment into the organization itself. This is what makes it important to the company and also to the team members. This will result in motivation for employees, encouraging them to put in their share of effort and dedication, and it makes them feel valued.
4 – Use the work schedule
It isn't just about not burdening those who work in your organization with extra time. Rather, this investment that the company makes should be considered important and valuable enough to include within the workday. This has an impact on the team's work performance and not just on the specific results of the training programs.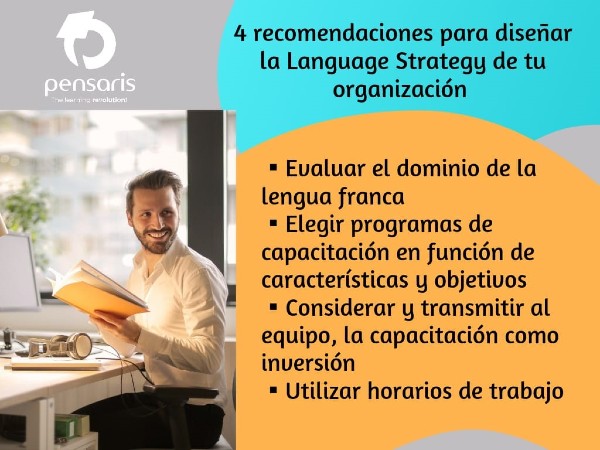 What is the language strategy of your organization? Are any of these steps implemented as part of its regular functioning?